Young Voices Choir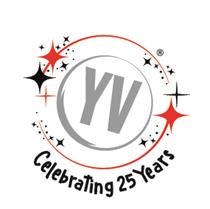 Being a member of one of the largest choirs in the world means that you get to practice with some of the best professional musicians in the world and get to learn some amazing tricks and skills from our world-famous Conductor and Musical Director. You'll also be able to boogie alongside our amazing Creative Director, who will teach you all your dance moves. The worlds' best lighting and sound technicians will be making you look like a star.

Your teachers will have to work extra hard to help you learn your songs and dance moves, so please make sure you give them all the support you can by visiting the YV Music Room - where we've put some fun resources for you to use at home. Such as:
Lyric videos - challenge your friends to see who knows the lyrics the best
Spotify links - listen on the go or right at home, anywhere there is wifi
Special extras - be sure to check in daily to see if there is a message from someone cool!
Don't forget to tell your parents to download the Official Young Voices App which includes the extra special feature of "Find My Child", so that your parents can see exactly where you are on the evening of the concert.
---
Young Voices 2022
Children taking part in YV 2022 had the opportunity to perform at Wembley Arena with over 5000 other children from local schools, it was an amazing evening with some of our friends and family in the audience.
We really enjoyed learning to beatbox with the "Beatbox" collective and jumped up and down at their performance, we learned lots of different songs for the performance but some of our favourites included Sing from your Heart, Mambo Italiano and Pop Medley.
We also enjoyed taking part in a dance off with our parents led by "Urban Strides" who taught us some ​hip-hop dance moves.
We have waited a long time to perform with the Young Voices choir but it was worth the wait, all the children and staff had an absolutely amazing evening. Thank you to all the teachers who have supported the young voices choir on its journey to Wembley arena and well done to the children for all their hard work over the last few months. Our children were brilliant ambassadors for Belmore and performed with pride. It was fantastic to see it pay off with a wonderful performance.
We can't wait to do it all again next year!