The new way of working
10 September 2020. Click here for more information
School reopening
We are excited to have welcomed children back to school after the extended disruption to their learning over the last few months.
All children in all year groups are now expected to attend school each day. I hope that you can trust us that we have done our best to make sure that everything is in place that needs to be to ensure the school is as safe as it can be.
We are carefully following all Government guidance about the safe operation of schools and the range of protective measures we need to put in place. In line with this the following has been put in place to ensure that risks have been minimised for children, staff and parents:
Children have been placed in year group 'bubbles'. This means that children are taught mainly in their class groups but they are able to mix with children in their year group. They are not allowed to mix with children from other year groups at break or lunch time.
Inside classrooms, children are not generally sitting at tables facing each other. Adults are mainly teaching from the front.
Everyone, children and adults, are expected to be washing and sanitising their hands regularly throughout the day. A more frequent cleaning schedule is in place across the school particularly in relation to frequently touched surfaces
Parents/carers are not currently allowed to enter the school building without an appointment and should wear a face covering if possible when invited on site
We have new systems for dropping off and collecting children. There are different routes for parents and children in each year group to follow in order to continue to keep children apart and socially distanced
At this time we are not running Breakfast Club or After School Care but we are looking at ways to get Breakfast Club safely up and running as quickly as possible because I know how vital a support it is to working parents
Only one adult should drop off and collect children
Children should wear school uniform. On days when they have PE they come in their PE kit and wear that for the rest of the day
Children bring their own water bottle, preferably reusable
Children bring their own bags and equipment but we are providing most pupils with their own set of equipment to use in lessons which won't be shared with other children
School meals are provided as normal with staggered lunch breaks for each year group to ensure they are not mixing. Children can bring packed lunches in lunch boxes if parents wish

Any child showing Coronavirus symptoms MUST stay at home. Please be aware that if any child starts showing symptoms during the day they will be isolated and parents will be phoned to come and collect them. They will then need to get a test for the virus and we will advise you how to do this. In the event of someone in the school testing positive for the virus we will be advised by Public Health England about the measures we need to take. This may involve some children being asked to stay at home and self-isolate. If you are at all unsure about whether to send your child in please contact Ms Marsh, our Welfare Officer, or Ms Payne, our Attendance Officer before sending your child in.
The new school day times are shown below: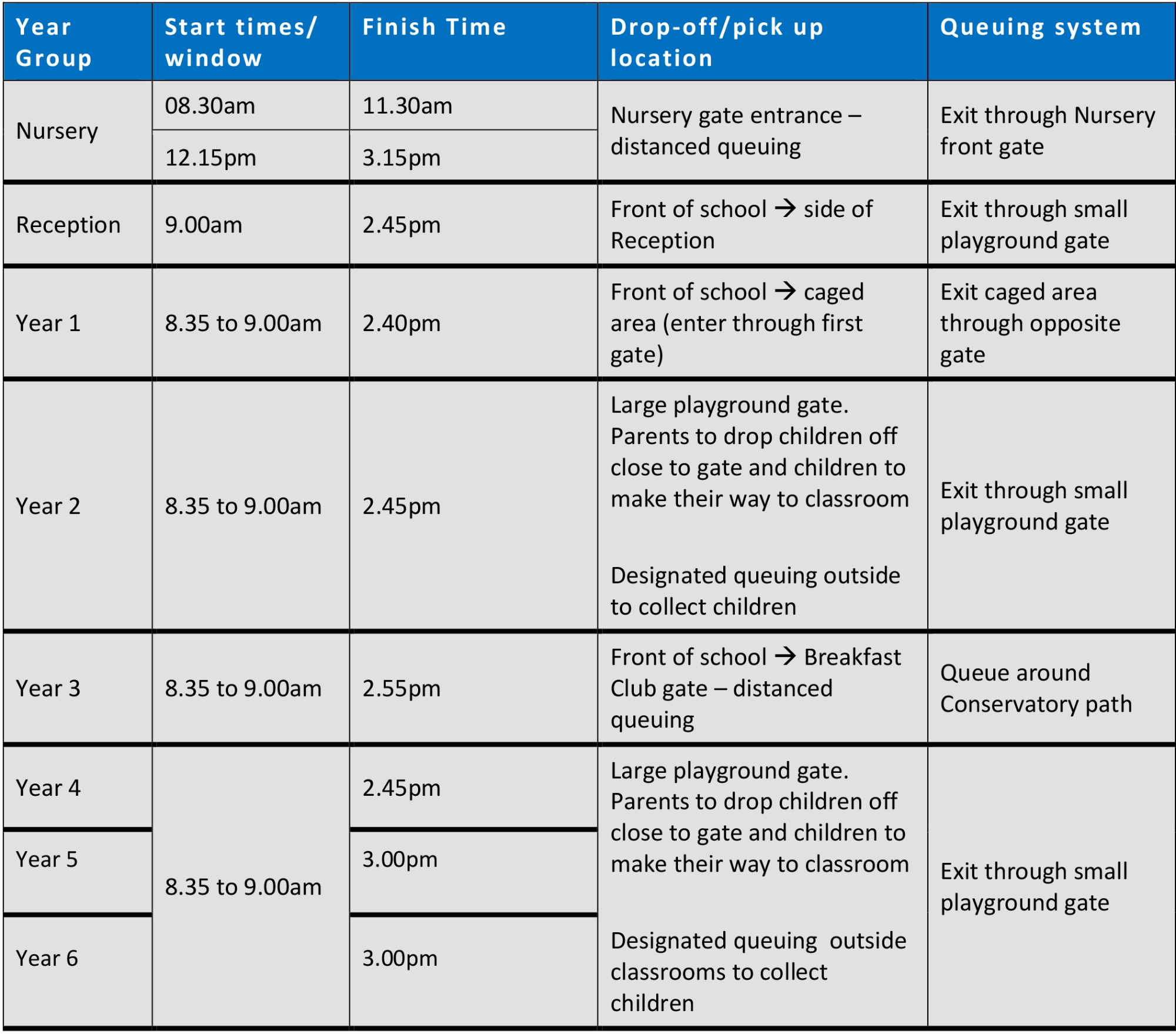 Some parents may want their child to wear a face covering. This is a question of personal choice. Government do not advise that children under the age of 11 need to wear one and the World Health Organisation does not currently recommend face coverings for children aged 5 or younger. Face coverings used incorrectly can accelerate transmission risks. You may decide that it is better that your child does not wear a face covering at this time but, if you do, please be aware that as a parent it is important that you are confident that your child understands how to wear, put on and remove a face covering safely. The school cannot monitor this during the day.
There will be times when you might have questions or issues you will want to raise with your class teacher or your child's Year Leader. At this time we ask you to use the Year Group email addresses on the Home Learning pages of the school website or phone the school.