Black History Month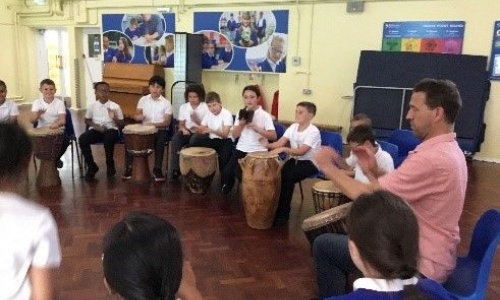 To mark Black History Month, Years 5 and 6 were fortunate to have the opportunity to take part in an African drumming workshop. It was an amazing experience to play traditional percussion instruments and work together creating rhythms.
We were taught a story to accompany each beat: the monkey climbed the vine; climb, climb, climb and the monkey climbed a big tree. We counted beats, rests and changed the pace.
Year 6 described this experience as "fun, amazing, informative, inspiring" and added "We really want to have the visitor back again!"
Jenson in Year 5 reflected "When I did African drumming, I liked the strategies of how to play it and the hand moves to change from high to low pitch!".
Yusra in Year 6 added "The African drumming was really good, because it had a really good beat! It wasn't only drums, we had the chance to play other African instruments too!".