Year 3 Trip to Chiltern Open Air Museum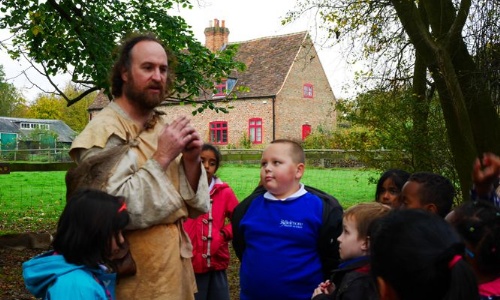 On Thursday 2 November, Year 3 went to the Chiltern Open Air Museum to learn about the Stone Age. We looked at some of the buildings around the site and went inside the Iron Age Round House. It was very dark because the house had no windows, and the fire pit in the middle of the house was the only source of light, warmth and was also used for cooking.
After lunch while we waited for our Workshop to begin we heard a strange noise. A Stone Age man blowing a horn appeared from behind a hedge. He introduced himself as Fox from the Deer Tribe and he showed us what we would need to do to survive in the Stone Age.
We did some exciting activities: shelter construction, mixing pigment, fire starting and twisting thread. What we liked best was making fire! Fox gave us the equipment we would need and it was very exciting when we created a spark that set the wool on fire.
It was an excellent day as we got to experience how people lived in the Stone Age.
Arshpreet, Gina & Mithurla, Class 3B