NSPCC Sponsored Event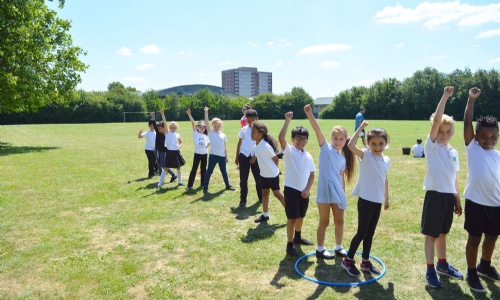 For our NSPCC sponsored event Belmore children set up a fitness obstacle course. With Mr Berry's and Mr Chamberlain's help, the Belmore Pupil Learning Community children designed the fitness course for each year group. The course was adapted for each year group and became more challenging for the older year groups.
The challenge was to complete the most rounds within a set time.
The Pupil Learning Community had a go at each activity phase to ensure it was suitable for each year group and the Sports Prefects did a fantastic job at setting up the equipment for these courses and guiding children through each phase.
A big thank you for everyone's support with this event.
A message from NSPCC
Dear Children,

Buddy and I wanted to write you a note to say just how excited we were by the results of your Sponsored Work Out. Belmore Academy managed to raise a whopping £500. Not only did you raise this money but you have all helped the NSPCC spread the important SPEAK OUT STAY SAFE messages. You have joined together as a school and as a community, with your family and friends and you have made a difference.Your money will help children like Ali and Sam. It will go towards:
Training a volunteer - think about the lovely people who came in to work with Year 5 and Year 6 in their workshops
Training a Childline Counsellor – who in one year can speak to 200 children!!!
Art therapy – helping children communicate deep and complex problems
I wanted to send you all a poem written by an 11 year old girl, who wanted to say 'thank you' to her NSPCC counsellor:
"Thank you for being there when I felt bad.
Thank you for coming when I felt sad.
Thank you for listening when no one else would.
Thank you for helping me when no one else could.
You're a very special lady, one of a kind.
Friends like you are hard to find."
That poem says it all.