Times Tables Club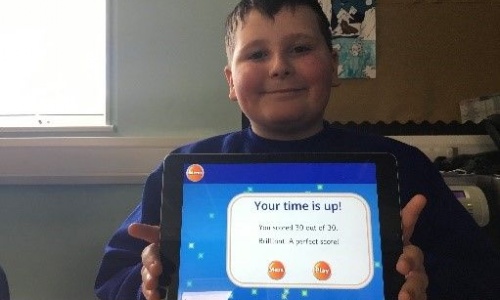 This term the children have had lots of fun learning their Times Tables.
They have enjoyed learning through colouring, making chatterboxes, cracking codes and riddles, playing bingo and completing the weekly 'Diamond Dash' starter. The children have also been in competition with themselves to see if they can beat their 'Hit the Button' score from the week before!
Children's comments:
Times Tables club is really fun and boosted my confidence a lot . I went from only being able to answer 14 questions in a minute to 24 questions a minute, which not only helped me with my arithmetic scores but also with my Mock SATS!
Charlie, Anderson class Y6
I had fun at Maths club, I've learnt nearly all of my Times Tables, and I've been practising a lot.
Maryam, Ahlberg class Y4
Times Tables club is really fun, I spent a lot of time with Charlie playing multiplication monsters. I have definitely got quicker at answering them!
Jack, Ahlberg class Y4
I had lots of fun, I've learnt my 9 Times Tables by using a clever little trick, which has helped me out a lot. Ms Taylor has even taught me all my square numbers, so I am already a step ahead for Y5!
Jenson, Ahlberg Y4