Year 1 Curriculum Update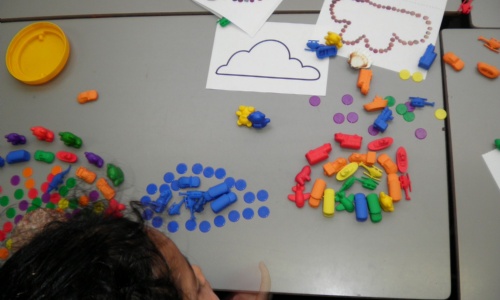 In Literacy this term, Year 1 loved their trip to space for our experience day! To envision what a day in space would feel like and allow the children to empathise with the characters in our book for this half term 'The Way Back Home', we decided to turn our classrooms in to space! The children were fully immersed in this experience and this enabled them to develop some brilliant vocabulary to use in their writing!
Art
In Art, the children showed of their true artistic skills and used a range of different objects to replicate their own weather motifs. As you can see, they really tapped in to their creative side and used counters, plastic counting bears and even seashells. Some even got to hear the waves crashing in the sea! Well done Year 1!
Maths
To help develop the children's knowledge of place value within 20, Year 1 have been exploring the number line in a multitude of ways including : finding one more and one less of a number and how to find the halfway point. In this practical session, we provided children with larger than life number lines and gave them the task of placing the missing numbers in their correct position. The children were fully engaged with this activity and physically placing the numbers allowed the children to deepen their understanding of place value as well as address common misconceptions!
RE
This half-term, our topic in RE is Christianity, with a particular focus on friendship and how Jesus showed friendship to others. After watching the bible stories of Zacchaeus, Lazarus and the calming of the storm, children ranked whether it was easy or difficult for Jesus to show friendship in each story and why. This provided a great basis for discussion in to friendships amongst the year group and the importance of showing friendship, even if it may be difficult at times