Queen's Jubilee Celebrations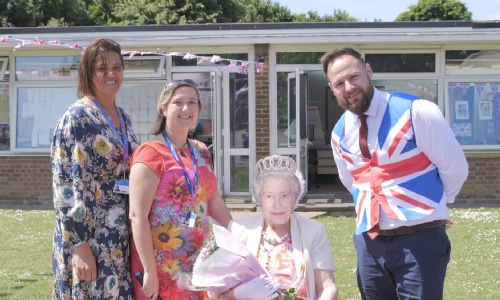 Belmore Primary Academy had a fantastic day on the 27th of May celebrating the Queen's Platinum Jubilee.
The children looked fantastic dressed in Red, White and Blue, as royalty themselves or looking very smart as if they were going to see the Queen.
In the morning the children worked on a range of activities about the Queen and the Jubilee, and also practised the National Anthem and a special Jubilee song in their classes.
At 11.30am the whole came out for a special assembly led by Mr Hyatt. It was such a surprise when the 'Queen' arrived. Everyone proudly sang the National Anthem, and loved waving their flags as we sang the Jubilee song. We gave the 'Queen', three cheers and the Head Boy and Head Girl gave her some flowers to say congratulations on being Queen for 70 years.
Before we headed off for our picnic lunch, we did a curtsy or a bow to the 'Queen'.
We all enjoyed our delicious picnic lunch and had a lot of fun playing and dancing on the field.
In the afternoon, the older year groups visited the younger year groups to share and talk about the work they had done all about the Queen.
To finish off the day we got to enjoy an ice lolly.
This was definitely a memorable day, with lots of fun!
We all enjoyed celebrating the Queen's Platinum Jubilee.