Windsor Castle Trip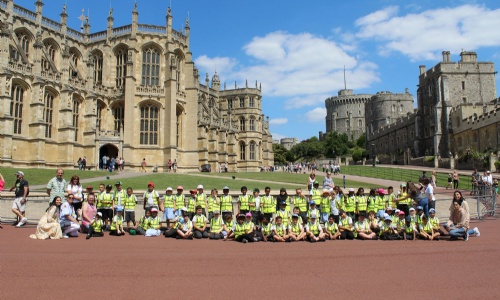 As part of our topic about 'Castles' Year 2 went to visit a real castle called 'Windsor Castle' especially as it is very famous and has had many famous events happen there.
First we saw the Changing of the Guard which was a lovely start to the trip. We had a good vantage point so we had an excellent view of the whole proceedings.
After that, we went to St. Paul's Chapel (the place where Price Harry and Meghan Markle got married). We were amazed at how huge it was inside and we saw where all the very important and famous people sit. Also we saw the aisle that Meghan walked down on the big day.
Next, we went inside the castle and saw all the beautiful, posh and inspiring pictures of the queens and kings of the past. Then we went to the room with shiny, metallic armour and gruesome weaponry such as swords, spears and guns.
Having had lunch as our tummies were starting to rumble like an erupting volcano, we walked back to the centre of the castle. Finally we took pictures with the still guard\soldiers and made our way back to the coach in the sunshine, admiring the battlements and arrow slit windows which helped soldiers to defend the castle from enemies.
What a lovely day!