Year 6 Butlin's Trip 2019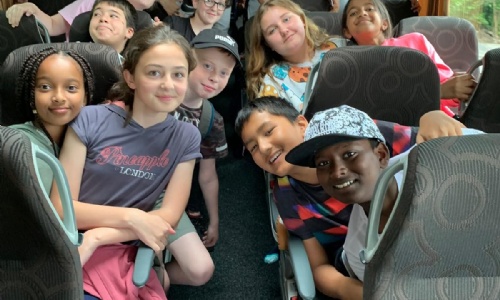 Our Year 6 children started their journey to Butlin's on Monday 24 June. Keep a track of what they are up to on a daily basis with our regular updates.
Monday 24 June
09:30 - Left school on time all excited about the week ahead!
13:00 - We have arrived in Butlins safe and sound. Everyone is eating their packed lunches and enjoying their Burger King. We are now off to HotShots for some bowling fun.
15:30 - Everyone is off to the fairground for some fun on the rides.
18:30 - Relaxing after the funfair.
19:00 - We have had a fantastic evening.
Tuesday 25 June
08:00 - Good morning everyone! Everyone is awake and enjoying a delicious breakfast to get us started for the day.
08:40 - Exploring Butlins
09:30 - We are reaching new heights on the climbing wall and on high ropes this morning.
11:30 - We are shooting up a storm in the archery tent.
13:00 - Having a drumming good time as learn to play the drums.
15:30 - Dancing our hearts out in a dance workshop.
20:30 - We are dancing and singing with Little Mix.
22:00 - Everyone is off to bed after a brilliant day of activities.
Wednesday 26 June
07:30 - Rise and shine! Everyone is awake and we are off to breakfast.
09:30 - Sports Day Fun - who will be the champions?
11:00 - Beach time.
12:30 - Lunch Time.
13:00 - Time for beach sports. We played volleyball and captured the flag.
15:00 - Fun on the fairground rides.
16:00 - On guard - we took to the battle fields and fought each other in fencing.
17:30 - Dinner time.
19:00 - Splash Waterworld - we took the plunge on the many many water slides and rode the waves in the pool.
Thursday 27 June
07:45 - The sky it blue and the sun is out. Everyone is awake and having breakfast.
10:30 - Watching Toy Story 4 in the cinema.
12:45 - More beach time fun.
15:00 - Ice cream time.
15:30 - Abra Cadabra - we learnt some new magic tricks. They are sure to impress you when we return!
16:30 - Clowning around in circus skills.
17:30 - Our last dinner in the restaurant.
19:00 - Dancing the night away in the farewell disco.
Friday 28 June
07:00 - Rise and shine, everyone is awake and heading out to have breakfast.
08:45 - Packed and ready for our journey back home.
10:00 - We are on our way home and aim to be back by 15:00, see you all soon.
12:15 - Quick lunch stop.
HotShots for some bowling fun.