Argument Against Heathrow Expansion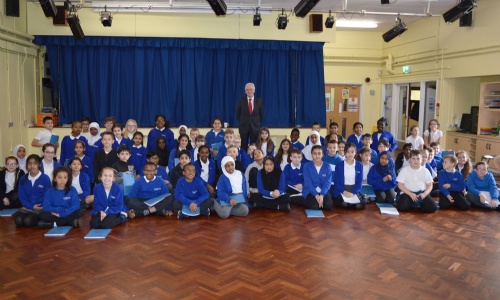 John McDonnell, the local MP for Hayes and Harlington and also the Shadow Chancellor, came to visit the Year 5 pupils to talk about the Heathrow expansion plans. Mr McDonnell has campaigned tirelessly over many years to stop the expansion of Heathrow, as he feels that not only will this have an enormous effect on the environment, but will also have an impact on the health of the people who live in the surrounding areas. He does however, recognise that many of the children's parents rely on Heathrow to provide them with jobs.
The children have been learning about these effects as well as understanding that in this process it will also see that two schools and the whole village of Sipson and Harmondsworth will be flattened to make way for a third runway. He explained that he had also that he was opposed to the building of Terminal 5 at Heathrow, but was persuaded to change his mind as Heathrow promised not to expand any further in the future.
The children had some very interesting questions for him to answer about the reasons why he feels that Heathrow should not expand. He commented on how well written and thought provoking the questions were that the children posed to him. They also gave very good reasoned arguments as to why the local area needs Heathrow to provide jobs for their families.
It was a very enjoyable morning, which the children enjoyed and we are very grateful to Mr McDonnell for giving up his time to join us at school.
undefined