Phonics & Reading
Belmore is highly successful at the teaching of Phonics and Literacy in Key Stage 1. We use the Read Write Inc. (RWI) Phonics programme to teach our children to read, write and spell and since we began teaching Phonics this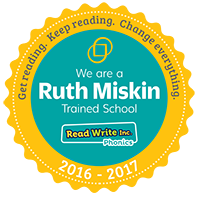 way our children's results in the Year 1 Phonics Screening Check have improved significantly. We have jumped from 38% achieving the expected standard in 2013 to 98% last year. This is way above the national average and we expect this strong trend of improvement to continue this year.
The Read Write Inc, programmes are carefully matched to the new curriculum, giving your children the best chance of success in the national tests. They show teachers, teaching assistants and parents step-by-step how to teach all children to become fluent readers, confident speakers and confident writers.

Our school uses the following Ruth Miskin programmes in the teaching of Literacy:
Read Write Inc. Phonics for our children in Reception to Year 2 and for our children in Years 3 and 4 who need to catch up
Read Write Inc Literacy and Language for our fluent readers in Years 2 to 6
Read Write Inc Spelling for our children in Years 2 to 6
More information may be found at www.ruthmiskin.com/en/read-write-inc-programmes/
As a result of our success and in recognition of the support we give to other schools, particularly with the teaching of Phonics, we are proud to be a Read Write Inc Badge school.

PiXL Vocabulary App
Belmore is part of the PiXL Club. Our aim is to raise standards of attainment to the highest levels for all of our children with their performance throughout their school life. We strongly encourage children to use PiXL at home to help them advance. To access the Vocabulary App click here and use the login details sent home with your child.
Resources to support parents:
Click on the links below for more information: