Van Gogh Experience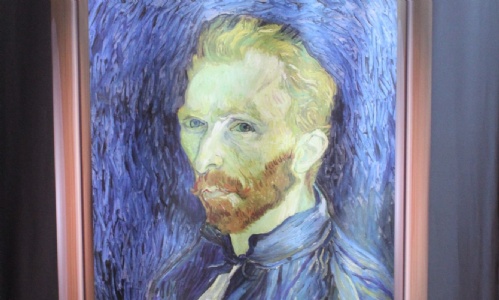 On Monday some children from Belmore Years 1 to 6 visited the Van Gogh Experience near Liverpool Street in London.
While we were there, we learnt about the life of Van Gogh and saw many of his paintings in different forms - paintings, videos, slide shows, 3D images. We also got to experience his time in France through VR glasses where they went on a journey exploring the paintings that Van Gogh painted - "A Day in the Life of the Artist in Arles France."
Finally, we spent some time in a large room being immersed by his paintings and being surrounded by them as they told the story of his life.
Here a few quotes from some of our children who went on the trip:
"I really enjoyed the trip to Van Gogh. We saw lots of paintings and we were able to recreate some of Van Gogh's portraits. We also got to immerse ourselves using the VR experience."
Naiya Francis Asante | 4Mc
"I really enjoyed the trip, we used a VR (Virtual reality) machine, which was so much fun! We felt like we were floating! We watched a documentary about Van Gogh and that was very interesting - did you know that he painted/drew 135 pictures of flowers? We got the chance to draw and colour our own Van Gogh picture and then they were displayed. I was really excited and happy to be picked to go on the trip and I made a few friends, which was really nice and I enjoyed helping to look after Alfie. Thank you for taking me on the trip."
Kelicie | 4C
"It was good because I liked the VR glasses and looking at the Van Gogh paintings."
Kiki | Year 2
" It was great because I loved the tea and paintings."
Kenzey | Year 2
"I found it exciting because we got to explore what Van Gough painted. My favourite part was the big room where the paintings were being projected on the walls. I thought Starry Night was very interesting because Van Gough painted it in hospital."
Omar | 5C
"It was amazing! I would definitely recommend other people to go. There are many things to do including VR and facts about the artist that people might not know (Did you know that Van Gough was colour blind!)"
Charlie | 5P
"The trip was an adventure and educational. My favourite part was the VR section of the exhibition, which was a simulation showing us where all of Van Gough's paintings were based."
Nathan | 5L
"It was so much fun - the best part was the VR, it felt like I was floating".
Alfie | Hedgehog class
"I loved the graphics and it was really cool! I wish I could go again."
Annie-May | 4D